Telemedicine, Home Trial Support and Patient Engagement
An extract from the Journal of Clinical Studies featuring MRN CEO, Dr Graham Wylie
In the newest edition of the Journal for Clinical Studies, they interviewed our CEO, Dr Graham Wylie on a variety of topics such as Patient-Centricity, Home Trial Support, Telemedicine and why we were listed as one of the UK's top 1000 companies on the London Stock Exchange. You can read an extract of the interview below or read the full interview here.
Putting the patient first is at the forefront of MRN's Home Trial Support (HTS), a service that is designed to positively impact the patient experience. Can you tell JCS how MRN seeks to make participation easier for patients in clinical trials?
Some of the biggest challenges of delivering a successful clinical trial are identifying, recruiting and retaining patients. A patient-centric approach asks the question "How do we meet the needs of patients to make it easier for them to take part in our trial?" Although there is limited publication in this area, what does exist, along with expert opinion, is clear. Patients want to travel less, to be at a site visit for less time and to be able to have visits out of hours and any day of the week. They want reduced time costs and incidental costs for them and their partners, carers and families.
Patients want the freedom to be seen where they want. Given the chance to be seen at home, patients will take it. Not offering it to them because they CAN get to the site misses the point. By not having to travel to the site, they can get on with their lives. An hour-long visit takes all afternoon in a clinic, and incurs travel costs (a pain, even if they are reimbursed).
Patients also want the freedom to be seen when they want – not just on the day the clinic is open. They may need to go to school, go to work, look after family and a host of other things they want to fill their lives with. They want to be people first and patients second, but the system rarely allows that.
The convenience that a community trial solution like Home Trial Support (HTS) offers patients makes trials with these services more attractive to patients and keeps them in trials once enrolled. It's important to note that we don't replace the site or the oversight of the principal investigator, we simply relocate a number of visits. The simple step of seeing a patient at home for perhaps two-thirds of their visits allows for a much better experience for the patient. We encourage drug developers to offer innovative services allowing patients to participate from their community, not only to retain patients, speeding up the trial, but also to give patients a better opportunity to care for their families and maintain their everyday lives.
What are your thoughts on the growing trend in the use of technology and telemedicine in clinical trials and how is MRN responding? Do support organizations like MRN have the ability to work with technology providers as the digitisation of clinical trial increases?
MRN have always valued innovation in clinical trials and we feel that telemedicine is a significant step in the right direction for the industry's drug developers and for patients. It has clear synergies with Home Trial Support. Some visits need a physician assessment that does not require an examination. In other cases, a nurse may be concerned about a patient and need a medical opinion, which can be accessed on the spot through a telehealth service. We can imagine several other scenarios where nurses and technology work together. We have an R&D function within our business, dedicated to finding new ways to work and new ways to offer our existing services. Telemedicine has been part of this exploration as we strive to continue building a patient-centric service and innovate to keep up with the growing trends in the market. As a result, we have successfully delivered our services alongside telemedicine for several studies. We have also worked with the extended eCOA solutions, BYOD solutions and internet-enabled devices for specific data collection.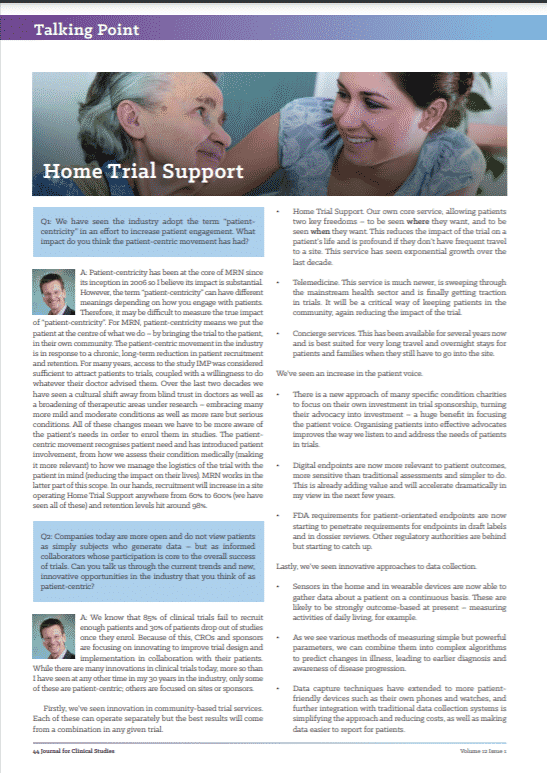 Read the full article here: